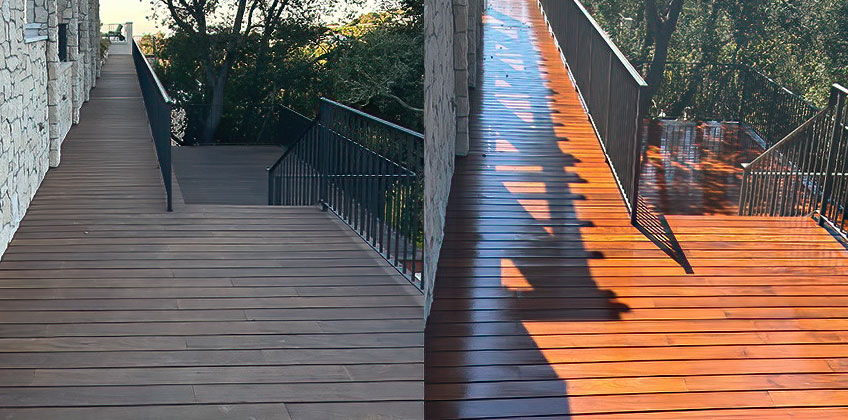 Natural Wood Refining: IPE Deck Restoration
The beauty of having an IPE deck or a deck made from Brazilian hardwood is that it is tough, durable, and will last longer than most, if not all other hardwoods. However, when it comes time for IPE deck restoration, you will need the right professionals to do the job. Natural wood refining is considerably different compared to installation.
In other words, just because a team installed your deck doesn't mean they know how to maintain and restore it. One mistake that is often seen is applying the wrong type of coating or over-applying coats of protection that creates a dark, sticky surface.
If the deck is new and has no sealer, then you will need to purchase the right type for IPE. Once applied, there are a few things you can do to help it last for a long time.
Cleaning
IPE is a Brazilian hardwood which is quite durable and resilient. This requires little in the way of maintenance. But you will need to follow a few tips.
Clean: Use a leaf blower to remove any debris
Mop: Mild soap and water with a mop to remove any stains
Seal: Use an oil-based sealer. That will allow for easy maintenance.
Pressure Washer: Is safe to use, just keep the pressure on the low side
But what is your deck has progressed beyond simple cleaning and maintenance? If that is the case, you will need to do some IPE deck restoration.
Restoration
While IPE hardwood is quite resilient, you can use natural wood refining and refinishing techniques to restore your deck. Before beginning, find the right sealer that you will use once the deck is ready. The sealer should be waterproof and offer UV protection for maximum benefit.
Clean: The first step is a deep cleaning of the wood to remove all the dirt, oxidation, and previous coatings.
Sand: Once you have thoroughly cleaned the deck, sanding will remove any coating that is remaining. Even the most stubborn coating can be removed with enough sanding. Be sure to remove any sand or loose grains before the next step.
Repair: Any surface area that needs repair should be addressed at this time. That way, it can become part of your deck.
New Coat: Use the proper coating to cover your IPE deck. The best sealers are applied with a brush so that you can get between the wood and deep into the grain. Make sure that the coating has enough time to dry, so check the weather forecast before you apply the first coat.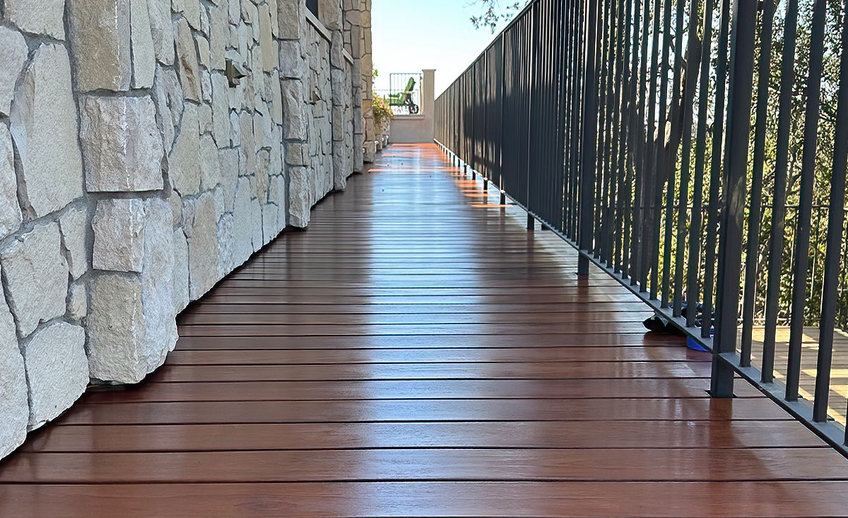 Add a second coat if required by the instructions on the product. Once that dries, your deck should be fully protected for some time. You can now employ proper maintenance as described above to maintain your new deck surface.
Proper natural wood refining is a big part of IPE deck restoration. But whether your deck need a little repair or a complete overhaul, be sure to properly identify the needs of your deck and apply the right approach. This may mean hiring the right professionals who specialize in IPE deck restoration methods.
Email or call Tilo Martin Painting for more information 310-230-0202.
Tilo Martin Painting is the top choice for interior and exterior painting in the Pacific Palisades, Malibu, Brentwood, Santa Monica, Bel Air, and the West Side. Call us today at 310-230-0202 to get a free estimate for your project.