Most of the time "About pages" are boring and of marginal value to the reader. So instead, I decided to write you a quick introduction letter.
Dear Future Valued Customer
If you're looking for a painting contractor, you've found exactly what you're looking for. My name is Tilo Martin and I've been painting high-end homes for more than 25 years.
I always try my best to delight customers like you with both a world-class paint job, and a level of service that radiates professionalism and value at every turn.
Since you're reading my "About" page, you're probably looking for a painter. So, let's get right to it.
Why should you hire me?
Here's what you'll get when you hire Tilo Martin:
Full Liability and Workers Compensation Insurance
Over 25+ years of experience painting high end homes
Tilo Martin's direct cell phone number – Call me ANYTIME
Meticulous process for preparing each and every surface that will be painted
Your home/property will remain a clean & quiet work area throughout the project
I'll show up at the scheduled time, and work diligently to complete the job as discussed
The quality of work you'll get is second to none. This is because I always spend more time on preparation work than other painting contractors.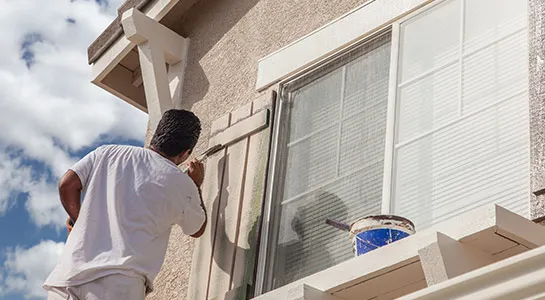 Your paint job will last for years
While I'm not the cheapest painting contractor, I promise to deliver an exceptional value.
If you live in the Pacific Palisades or the surrounding areas (Brentwood, Santa Monica, West Los Angeles, etc.), and you want the best painting contractor available, call us at 310-230-0202 or send us an email here.
Respectfully,
Tilo Martin
P.S. Check out the reviews & testimonials below to hear what other people have said about hiring me as their painting contractor.
Excellent Painting Team. Tilo and his crew were professional, diligent and a pleasure to work with. He took the time to make sure the job was done right. We would definitely recommend them.
Steven Lewis, Pacific Palisades
Tilo has become the only painter we use for both interior and exterior projects. He is professional, prompt, very knowledgeable, always on schedule.
Debra & Jim Moorehead-DeRose, Pacific Palisades
Dear Tilo, as always, you and your team did a wonderful job painting our home. The job was done on time, with excellent craftsmanship and very careful attention to detail.
John Clair, Santa Monica
Tilo Martin and his crew have now for two different painting projects for us and we could not be happier. Both painting jobs were handled thoroughly and professionally.
Phil Doran, Long Beach
Hi Tilo, thank you for another thorough, professional, and beautiful job, as usual.
Kim Mendenhall, Pacific Palisades
Dear Tilo, we want you to know how much we appreciated the paint job you & your workers did on our home. You were reliable, prompt and efficient. It was a pleasure doing business with a professional.
Ben Kluger, Los Angeles
I would like to commend you and your excellent crew for the superb work you have done at my house. You are punctual, neat and courteous, in addition to being extremely knowledgeable.
Kenneth Haker, Santa Monica
His workmanship is outstanding. He has been reliable and fair and has extend himself to be accommodating. I have no hesitation in recommending Tilo Martin for any painting project.
McCormick Templeton, Los Angeles
Tilo has painted my house both inside and out. It is a pleasure to deal with Tilo Martin. He not only is reliable and fair but he shows excellent workmanship and always goes the extra mile.
B. James Liberman, West Los Angeles
Tilo Martin was recently hired by us to paint the outside of a two story building. His painting skills were excellent; neat and clean, very professional. I do not hesitate to recommend him.
Shake' Bazoian, Beverly Hills
Tilo Martin Painting is the top choice for interior and exterior painting in the Pacific Palisades, Malibu, Brentwood, Santa Monica, Bel Air, and the West Side. Call us today at 310-230-0202 to get a free estimate for your project.