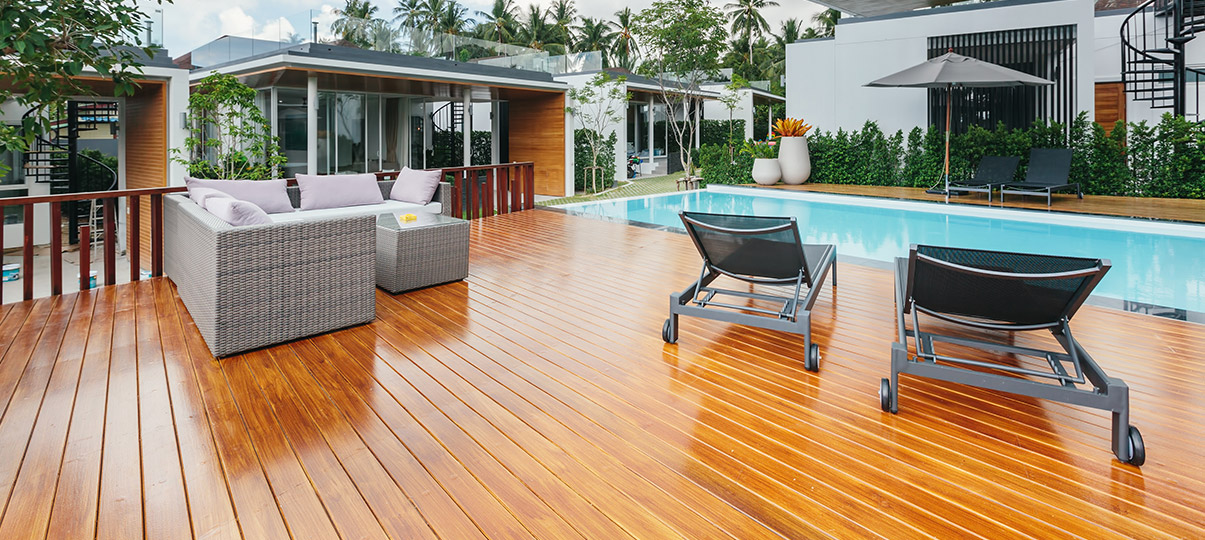 How to Paint a Deck to Improve Its Appearance & Weather-Resistance
Building a deck adds both an aesthetic and practical feature to your property. However, without the proper protection its integrity and appearance will quickly deteriorate under the unforgiving sun and the elements. Understanding how to paint a deck to improve its appearance & weather-resistance will prolong the life of your deck and save you money.
You will need to apply paint or stain to your deck which adds that important layer of protection. And while stain can provide excellent protection from moisture, it is far less effective in blocking the damaging ultraviolet or UV rays of the sun. That is why paint is generally preferred due to its ability to stop UV damage from occurring.
Setting the Time to Paint the Deck
Since most paint jobs will take place over a few days, you will need to start when there is several days of clear weather. Otherwise, the rain will ruin the paint job on the deck. You will need at least 24 hours to give the primer and paint time enough to dry.
The ideal temperature is from 50 to 90 degrees Fahrenheit. The higher the humidity, the slower the paint will dry. You may not have ideal conditions for painting your deck, but hopefully you can avoid any rain which is the most detrimental.
Safety
You won't have to worry about proper ventilation being outside. But you still should wear long sleeves, safety glasses, and gloves. A mask is not necessary if you are using a brush or roller, but it will be if you are using a paint sprayer.
Get the Materials
You will need the following items:
Paint Scraper, Broom, Sandpaper, and Power Sander
Hammer, Nails, and Wood Putty for Outdoor Use
Pressure Washer, Mild Detergent, Wire Brush, and Mold Deterrent
Painter's Tape, Drop Cloths, Paint Roller, and Paint Brush
Exterior Primer and Paint
Scrape & Sand
Scrape away all the old paint first. Then use the broom to brush away all the dust, dirt, and debris. Use the scraper on the areas where the old paint is peeling or chipping away.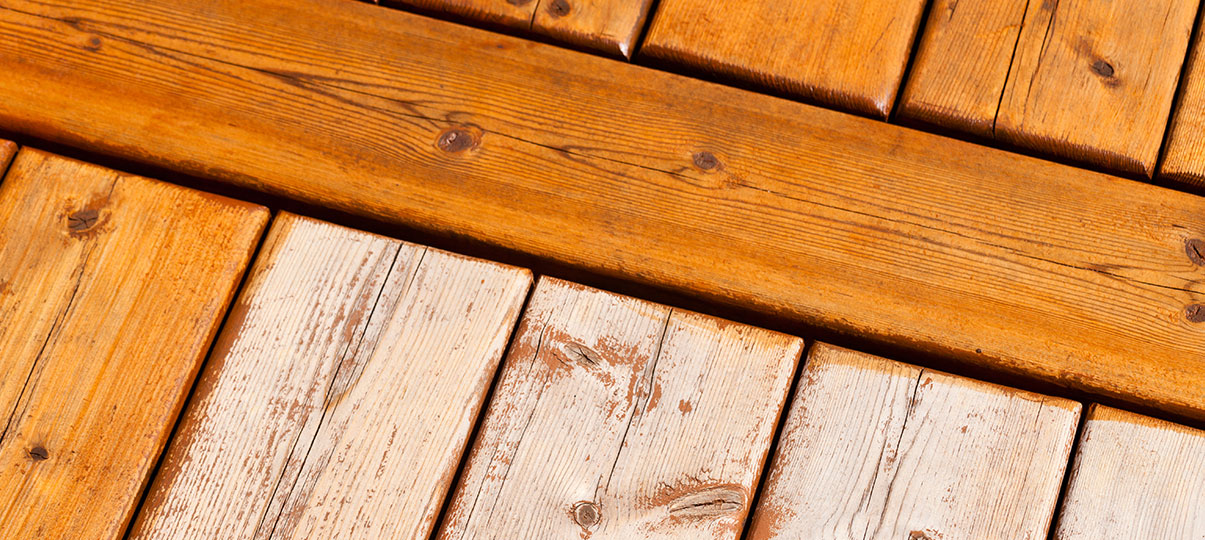 Now, use the power sander to smooth out the deck. This will prepare the wood for painting. Plus, it will remove any remaining paint from the surface area.
Repair & Wash
Any areas of the deck that need to be repaired should be done so at this point. This means fixing any loose boards, removing protruding nails, and filling in any divots or cracks in the deck. This is where the wood putty comes into play.
Once repairs are complete, you can wash the deck. Be sure to sweep first and then use a pressure washer or wire scrub brush and warm, soapy water. Once the deck has been fully washed, you can apply the mold deterrent.
Prep, Paint, & Repeat
Once the deck is dry, tape off areas that are not to be painted. Now you can add the primer, let it dry, and then at least two coats of paint. Let it fully dry and now you are done.
Now you know how to paint a deck to improve its appearance & weather-resistance. Remember that you can use different color combinations if you desire, but the main goal is to protect the deck so that it will last for many years to come.
Email or call Tilo Martin Painting for more information 310-230-0202.
Tilo Martin Painting is the top choice for interior and exterior painting in the Pacific Palisades, Malibu, Brentwood, Santa Monica, Bel Air, and the West Side. Call us today at 310-230-0202 to get a free estimate for your project.