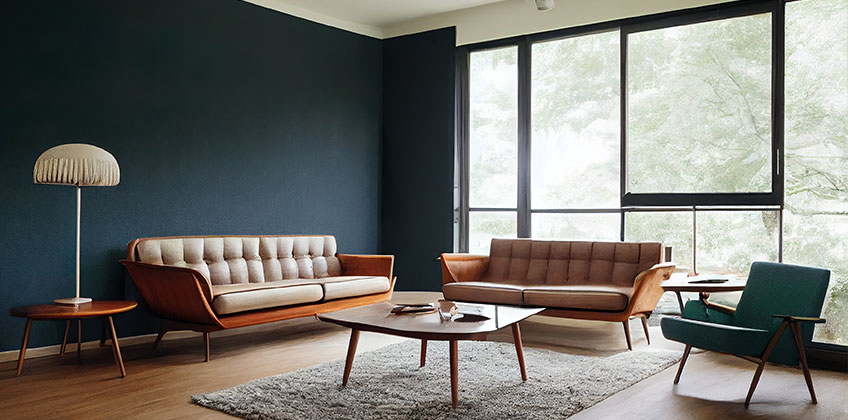 The Best Paint Color Palette for a Mid-Century Modern Home
The best way to describe mid-century colors is to remember that "form follows function". This means that the best paint color palette for a mid-century modern home is one that uses natural hues while complimenting geometric forms with minimalist approach.
Made popular after World War II, the mid-century modern movement in design and colors represented a fresh new approach. The clean, minimalist appearance was quite appealing and can be easily recreated for your mid-century décor.
Wood
The use of wood in mid-century colors is quite prevalent. You can also use colors that have neutral tones such as orange, turquoise, and gold to compliment wood paneling, stone, and pottery in the room. But you will need to choose the right combination.
Consider the type of wood used which may include beech, oak, rosewood, and walnut. Be sure to account for the wood when making the choices in textiles, accents, and colors. A great contrast to wood is cool colors such as blue, green, or purple. Of course, you can also select black or white which are minimalist approaches perfect for accentuating the wood in the room.
Kid's Rooms
It may seem challenging at first to use mid-century colors in your children's bedroom. But the truth is that the functional, clean approach adds more variety in terms of what can be used to bring a little life to this environment. Consider using the following colors:
Lime Green
Tangerine
Deep Blue
Mustard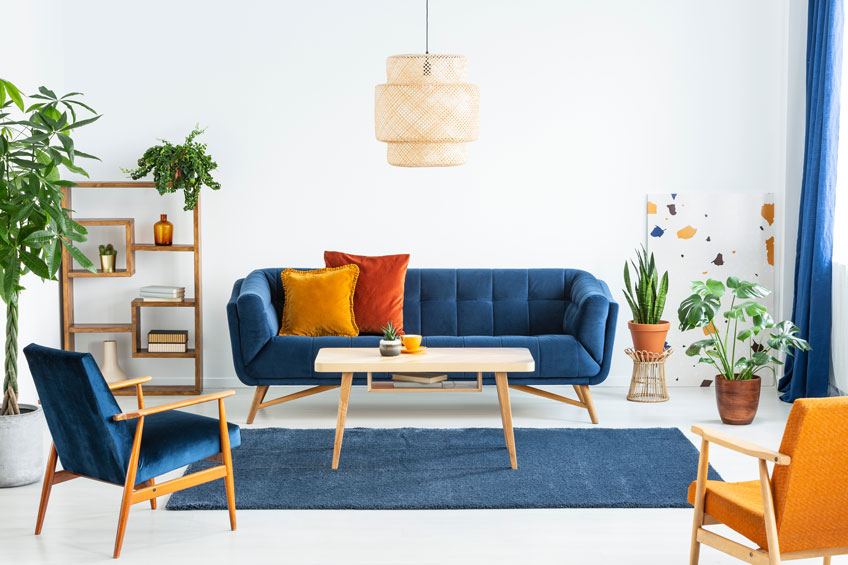 You can even go with a monochromatic appearance by using white or black in painting the furniture in the room. With nurseries, you can select white or minimalist pale colors for furniture and then add a splash of vibrant color.
Paints
Bold, rich colors can be used in determining the best paint color palette for a mid-century modern home. Just remember to mix and match where appropriate. Check out the minimalist paint collections of different paint companies which may include the following colors:
Foggy and Pale Blue
Gray
Green
Pink of the Bluish Kind
You'll also find blonde tones and beiges with a touch of cream in some collections. Consider that certain furniture and woods, such as lighter beech, which is often used for chair and sofa frames can be complimented by rich hues that bring out their positive attributes.

Of course, you may find that other mid-century paints include chocolate browns, earthy reds, and a blue-gray turn that is warm. You will need to check out all the paints available before settling on a combination that works best for your mid-century décor. Just remember that this era may seem antiquated, but its clean lines are still quite up to date.
Remember, the best paint color palette for a mid-century modern home starts with the proper décor. This means matching the mid-century colors with the elements in the room to create a clean, minimalist approach. You'll find that this will lead to cool colors that compliment wood and bright colors to bright colors that bring out the best in your home décor.
Email or call Tilo Martin Painting for more information 310-230-0202.
Tilo Martin Painting is the top choice for interior and exterior painting in the Pacific Palisades, Malibu, Brentwood, Santa Monica, Bel Air, and the West Side. Call us today at 310-230-0202 to get a free estimate for your project.