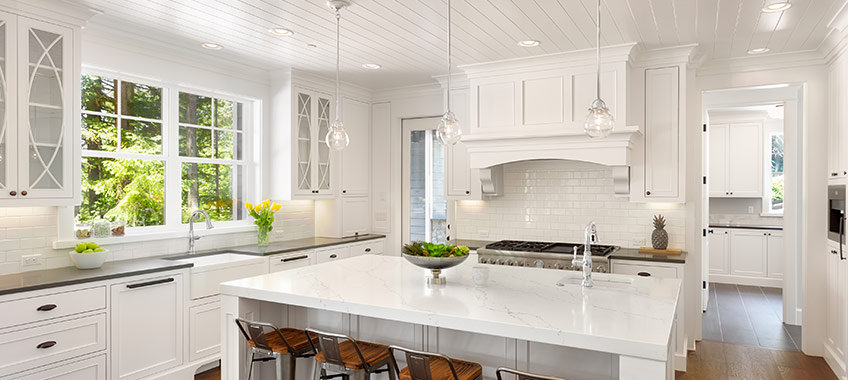 A Lighter Shade of White: How to Choose White Paint
While many people think of white paint as being alike, there are over 150 shades available. The thought of choosing from all those shades of white paint to find the right one can be daunting. But understanding how to choose white paint that works best for you is not as challenging as you might think.
The key is understanding the basic differences, where it will be used, and what you want to achieve when you use white paint in a room, hallway, or outdoors. What follows are a few tips that will help you make the best-informed decision.
Natural Lighting
The more natural light, the more that pure white paint looks right. If the room has more artificial white, then you might want to try paint that has more pigment. Keep in mind that natural light changes from one area of the world to the next. The sunlight in New York City will be different compared to Los Angeles, Miami, or Seattle.
Big Swatches
One issue with white paint is that it can be difficult to see the texture and subtlety on small swatches. Instead, you should try to see larger areas of the paint to get a good idea of how it will look in a room. Try a swatch of 9" x 12" for example to really see the texture. This will be quite helpful when choosing which type of hue works best.
If you can, look at the big swatches on the walls of the rooms you intend to paint. You may find that you'll want different undertones for each room.
Undertones
White paint can come with different undertones that range from blue to red to yellow and green to name a few. The problem is that it can be difficult to see the undertones clearly unless you compare them to other types of white paint. A good trick is to take a small sheet of white paper with you for comparison and you'll see the undertones pop out.
As part of sizing up the room or area you are painting, it helps to know if you want the room to have a warm or cool vibe. For a warm tone, choose a white paint with orange, red, yellow, or pink undertones. For a cool tone, select undertones of purple, green, or blue.
When in Doubt, Go for a Neutral White
This means that you are having difficulty telling any real difference, then go for white paint that strikes a balance between warm and cool tones. While neutral white may not be the absolute best, it is often the safest choice when choosing between different tones. If anything, it helps make the decision easier if you are having trouble seeing the differences.
When you know how to choose white paint, even with all the shades available, the task will not be so daunting. In fact, with all the choices you now have even more room to be creative when you are repainting a room, hallway, or the outside of your home.
Call us at Tilo Martin Painting. We'll help choose just the right color white paint for the way you want to live in your home. And when it comes time to get the job done, we guarantee you'll be delighted with the results our interior painting crews deliver.
Email or call Tilo Martin Painting for more information 310-230-0202.
Tilo Martin Painting is the top choice for interior and exterior painting in the Pacific Palisades, Malibu, Brentwood, Santa Monica, Bel Air, and the West Side. Call us today at 310-230-0202 to get a free estimate for your project.