Interior Painting Services in Pacific Palisades and the Surrounding Areas
Let's discuss interior painting services for a few moments, as it's a big part of what we do at Tilo Martin Painting.
In short, when you allow a professional painting contractor into your home, you have certain expectations. You expect that they will do the job right, that they will treat your home with respect and care, and that the finished job will be beautiful, devoid of any issues.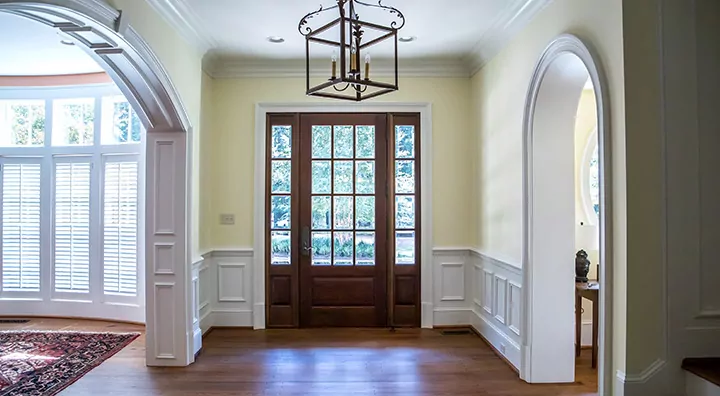 Here is what Tilo Martin Painting offers you for interior painting services:
We Start by Meticulously Prepping the Area
A great paint job starts with the prep work. Sadly, too many painting contractors skimp on this, or omit it altogether. Not us – exceptional prep work is a standard part of our interior painting service. Sanding, taping, and priming all go a long way in ensuring the final product looks great today and tomorrow. Plus, we begin every job by covering your floors, furniture, and any adjacent areas. This keeps everything safe and clean.
We Do All Interior Jobs. Even the Hard Ones
Not only will be bring warm, beautiful color to your interiors, we can satisfy your every whim. Want three colors in that high stairwell? No problem at all!
Trust and Professionalism
We are full insured, and our workers are nothing short of professional, in every way. We work in some of the finest homes in the world, and our touch makes them even more beautiful.
Drips? Not Here!
This neatness carries over to the paint job itself. There will be nary a drip, drop, run, or anything similar. We're neat to a fault, and will not be satisfied until your home looks better than it did when we arrived. Your belongings, floors, rugs, and everything else will be spotless.
Neatness Counts
Sanding is often a part of painting. But it's messy, so many contractors either skip it, or get your home all dusty. We're not only prepared to sand, we're prepared for the dust, and take careful steps to limit and eliminate it (like, as mentioned above, covering the floors and furniture).
Top Quality Paint
We use Benjamin Moore Paint, which is, in our opinion, the best paint in the business for many applications. We also use Fine Paints of Europe, Farrow & Ball and other specialty paints.
Tilo Martin Painting is an exceptional painting company! We had our entire interior painted to perfection. Their work is clean, precise, and absolutely beautiful. We're so glad to have found this company.
Holly Gerson, Beverly Hills
Tilo Martin proficiently translates a conceptual idea into breathtaking reality that far exceeds expectations. His work is characterized by meticulous attention to detail and uncompromising commitment to excellence.
L Underdahl, Santa Monica
Tilo is THE BEST!! He completed my project quickly, thoroughly, and with great attention to detail. He was always a pleasure to deal with, and handled the inevitable hiccup in the project with grace, generosity and good humor.
Lucy Culwell, West Side
We are most happy with the finished project and the care they took protecting our house while they worked. We are extremely happy we chose this company and we recommend it with the highest praise.
Clara Beard, Bel Air
Tilo Martin Painting is the top choice for interior and exterior painting in the Pacific Palisades, Malibu, Brentwood, Santa Monica, Bel Air, and the West Side. Call us today at 310-230-0202 to get a free estimate for your project.