Top 2021 Paint Color Trends: Best Colors for Interior Paint
Although paint color trends come and go, there are certain colors that are timeless. For 2021, the best colors for interior paint have changed in some ways compared to previous years. However, they also have the widespread appeal that is expected from what many people want in their homes.
The paint color trends for 2021 were announced last fall and they have already influenced interior decorators, designers, paint contractors, and homeowners. What follows are the hot trends for this year that may well last for the next several years.
Aegean Teal
Variations of green are popular interior colors for paints, but Benjamin Moore has produced Aegean Teal 2136-40 that is simply outstanding. It's unique combination of colors create a rich, soothing atmosphere which bolsters the feelings of harmony.
Aegean Teal offers a counterpoint to the unprecedented year that so many have gone through with the pandemic. With so much uncertainty in the world, this rich color offers balance and harmony that help soothe the soul.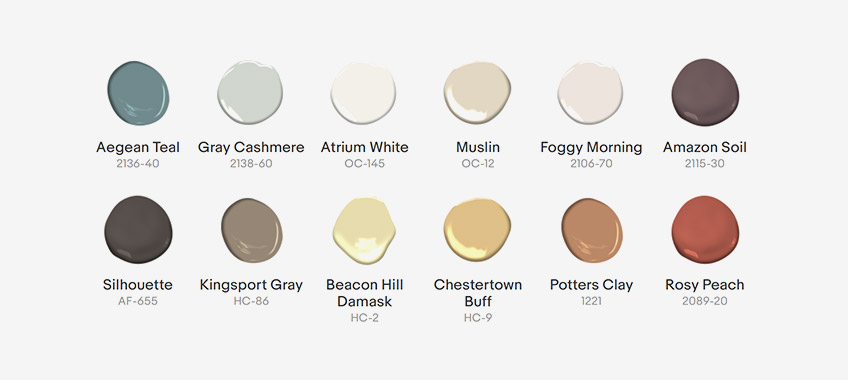 Foggy Morning
Not far behind is another paint from Benjamin Moore called Foggy Morning. Instead of the rich hues found in paints such as Amazon Soil for example, Foggy Morning is blended from neutral colors that provide a calmer, more balanced approach. The result is the feeling of waking up with your home surrounded by a calming fog which provides comfort.
Ultra Marine Blue
A return to the classics, blue is arguably the most popular of interior paints next to white. This ocean blue color is both calming and pleasing, making it a great choice from Farrow & Ball. As paint color trends go, this one is a return to the classics, but it is a natural reaction to the hectic world where people want to find a respite in their homes.
As with many Farrow & Ball paints, this one is quite durable and rich in colors while still offering a neutral balance. The Ultra-Marine Blue is both beautiful and timeless, making it the perfect trend for today and tomorrow.
Deep Reddish Brown
The earthy tones of Deep Reddish Brown offer a great choice for those who want to return to nature. The rich combination of colors combined with their classic appeal make this a great choice for those who love the outdoors. Bold, yet familiar, pleasing, and timeless, the Deep Reddish Brown entry from Farrow & Ball is a true winner.
There are other popular colors as well, but what can be said for 2021 is that neutral colors tend to be the most timeless. Of course, colors that reflect a natural, earthy setting are also quite attractive.
The top paint color trends for 2021 do not disappoint. They represent a rich variety of colors that have already made an impact this year. Of the best colors for interior paint for your home, the first step is to find the ones that best match your home décor style and build from there.
Email or call Tilo Martin Painting for more information 310-230-0202.
Tilo Martin Painting is the top choice for interior and exterior painting in the Pacific Palisades, Malibu, Brentwood, Santa Monica, Bel Air, and the West Side. Call us today at 310-230-0202 to get a free estimate for your project.