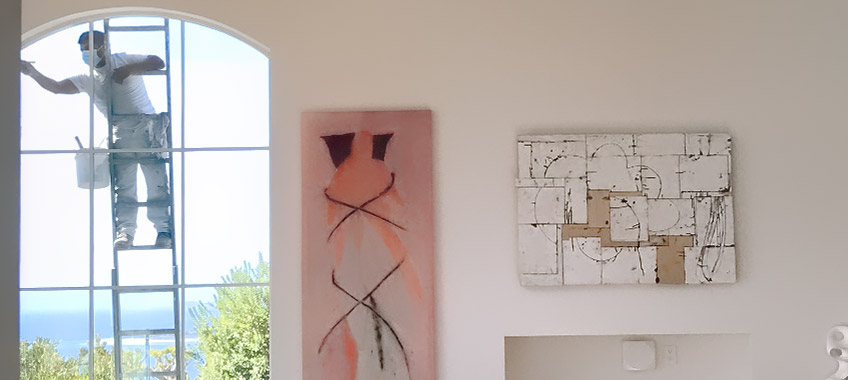 Residential Painting: To Prime or Not to Prime
When it comes to residential painting, to prime or not to prime is the question. Whether it is better to add primer first or simply apply another layer of paint is a decision that has caused considerable debate. The answer will depend on different factors, so understanding the condition of the surface, what purpose the new paint will serve, and whether adding primer is the best use of your money will depend on such factors.
What is Primer?
Primer does look a lot like standard paint, but there is a difference. Primer contains an adhesive binder along with a higher concentration of solids. The result is that primer will seal the surface and provide a stickier area for your paint to be applied. You should think of primer as being a type of glue rather than paint.
Why Use Primer?
It was not long ago that primer was recommended for nearly every painting job. Today, thanks to the increase in paint quality, the need to use primer is not as frequent. But the time to use primer is when you are painting a new surface. If this the first coat of paint being applied to a wall, then you should use primer first.
This is because new surfaces tend to be imperfect and have poor adhesive qualities. Primer provides for a stickier surface while sealing it up nicely. Once you have a coat of primer applied, you can then paint the surface after it has dried.
Keep in mind that if you totally remove the paint from a surface which leaves it bare, then you need to apply primer again. This is because you have a bare wall that has the same characteristics as a new surface that needs the stickiness and protection of primer.
When Not to Use Primer?
While you can use primer at any time, it is not necessary if you are painting over a surface that still has a good paint job. If the old paint is still holding up nicely, then primer is unnecessary since the current paint should still be smooth and sticky enough to secure the new paint on top.
The exception is when the paint on the wall is quite glossy. Glossy paint has poor adhesion qualities which makes it difficult for new paint to stick. You will need to apply primer over the top to ensure that your new paint will remain on the wall.
Otherwise, if the old paint is still solid and in good shape, then you should be able to apply a new coat over the top without having to use primer.
Primer should be used with the surface is porous, stained, glossy, or if the old paint is quite dark and you are putting a much lighter color over the top. Such as painting over dark blue with white. In such cases, the additional solids of the primer will cover the old paint quite nicely, so you can use a much lighter color on top without the older paint showing through.
To prime or not to prime is the question when facing a residential paint job. Finding the right answer will either save you money immediately or over time.
Email or call Tilo Martin Painting for more information 310-230-0202.
Tilo Martin Painting is the top choice for interior and exterior painting in the Pacific Palisades, Malibu, Brentwood, Santa Monica, Bel Air, and the West Side. Call us today at 310-230-0202 to get a free estimate for your project.