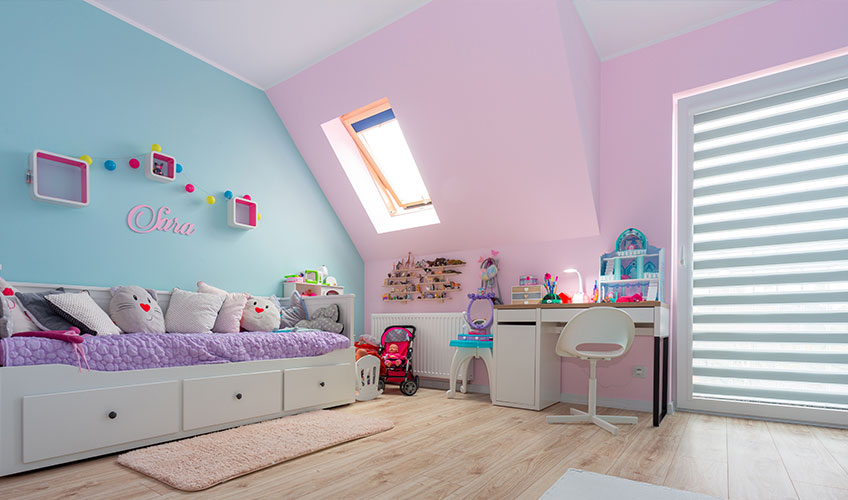 Best Types of Paint for Kids' Rooms
The first attribute many parents seek when searching for the best types of paint for kids' rooms is their toughness and durability. The impacts, marks, and scratches that often occur on paint in a child's room means searching for products that are safe, strong, and long-lasting.
But what are the specific attributes that you need to search for in finding the best types of paint for kids' rooms? The answer starts with finding the right type of paint that not only stands up to what your kids may do, but also fits within your budget and compliments the home décor.
Painting a Kids' Room
As you plan on painting the children's room, there are a few things that you need to consider before purchasing the paint:
Clean away all previous paint, especially if it is quite old.
Measure how much paint will be needed. You will need enough for two coats.
Bring your child into the decision about colors. After all, they will have to see them quite often.
If the paint is decades old, it may be lead-based. Have the paint tested before you remove it if you suspect that it may be based in lead.
What to Look for in Paint for Kids' Rooms
Instead of starting with brands, you should look for specific elements in the paint that works best for a children's room. Once you have the right elements, then you can choose the brand that you find works best for your needs.
High Sheen: Paint with higher sheen such as eggshell is far easier to clean and maintain compared to matte finish paints. While matte finish paints show scuff marks and are more difficult to wipe clean, eggshell or higher sheen paints tend to be far easier to clean and not show scuff marks.
Low to No VOCs: Volatile Organic Compounds (VOCs) are toxins that are used to help make many different types of paint. For many years, it was believed that VOCs faded quickly once the paint dried. But new research shows that VOCs continue to be expelled by the paint long after it has dried.
This means that children might experience minor symptoms such as headaches, dizziness, or even irritation of the lungs. In rare cases, there may be serious side effects especially for very young children and the elderly.
The bottom line is that you should choose paints that have little to no VOCs. This will help protect your children as they grow.
Surface Protection: Paint with surface protection such as Teflon-infused paint will make it easy to clean and maintain. However, such paint may be difficult to find. But it is well-worth the effort for paint that will last a long time.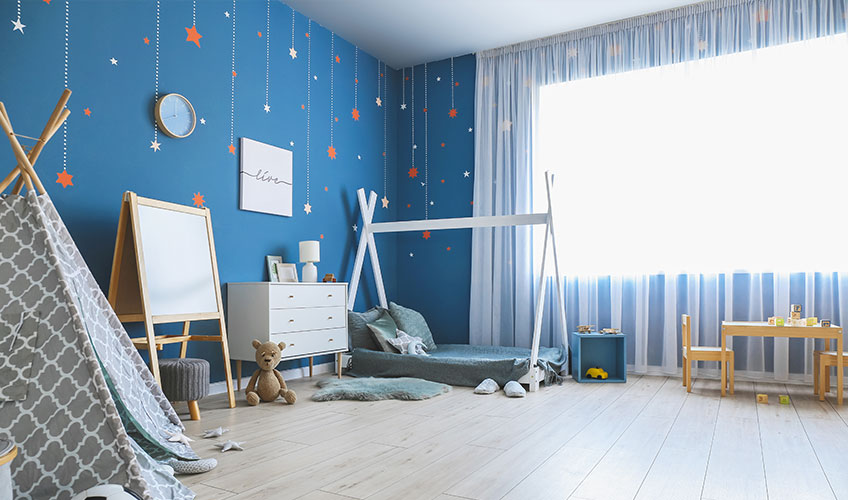 Alternatives: Instead of paint, you can consider alternatives that might be superior to paint under such conditions:
Washable Wallpaper
Vinyl Wall Covering
Both have advantages in being easy to clean and maintain. Plus, they are generally easier to apply compared to paint and will last longer under most circumstances.
The best types of paint for kids' rooms start with their maintainability and ease of cleaning. From there, you can choose the colors and styles that bring life to your child's room.
Email or call Tilo Martin Painting for more information 310-230-0202.
Tilo Martin Painting is the top choice for interior and exterior painting in the Pacific Palisades, Malibu, Brentwood, Santa Monica, Bel Air, and the West Side. Call us today at 310-230-0202 to get a free estimate for your project.