Teak Refinishing and IPE Refinishing
Tilo Martin Painting is an expert in the exotic woods that are used in many Los Angeles area decks, outdoor furniture, and similar.
This typically means Teak, IPE, and Mahogany. While these beautiful hardwoods look great in the California sunshine, they also require maintenance to stay looking beautiful.
Protect Your Investment
We handle any and all maintenance / refinishing for Teak, IPE, and Mahogany in and around the Los Angeles area. This includes decks, patios, furniture, trellises, stairs, and more. We can work to beautify older pieces that have been neglected, and we can also maintain your furniture, decking, and everything else on a yearly basis.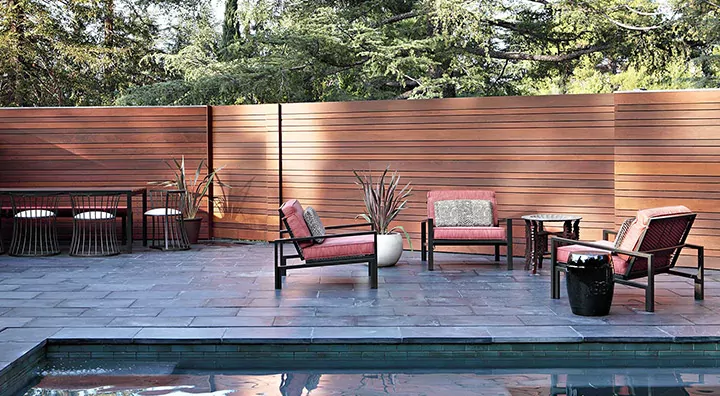 Here are some of the services we perform:
Note: we will use the words "Teak Furniture" for everything, but that can mean IPE, Mahogany, decking, stairs, fences, or any combination of such. In other words, if you have exotic wood, we can handle it!
Sanding and Sealing
When your Teak furniture is brand new, a light sanding and sealing will block out moisture, prevent mildew, and keep it looking beautiful. This is an important step, and will go a long way in making your furniture last.
Teak Furniture Restoration
Los Angeles weather can be rough on Teak. If you have pieces that have seen better days, we can help. With a combination of power-washing, stripping, sanding, and sealing, we can lovingly work on your pieces, and give them new life. You'd be surprised at how much better we can make old, gray pieces look.
Ongoing Teak Furniture Maintenance
Most Teak furniture needs regular maintenance (sanding, sealing, etc.), generally every 6-12 months, depending on the piece. We can setup a regular maintenance schedule to keep your teak furniture looking great – day after day, month after month, year after year.
Licensed and Fully Insured
We service the Los Angeles and surrounding areas, and have a stellar reputation for high end, high-quality work. We keep our jobsites meticulously neat and safe, which gives our customers peace of mind. When you hire Tilo Martin Painting, you should expect the very best, with no compromises.
The first thing that came to mind when I first started speaking with Tilo about our refurbish job was "quality". His standard is high and he does it right!
Rene Parra, Los Angeles
Tilo did a great job. When additional work was needed, he brought in a reliable carpenter to do that work. Could not have asked for better. I would definitely recommend him.
Cynthia MacDonald, Pacific Palisades
Tilo and his crew did a fantastic job painting both metal and wooden features of my modern style home in Pacific Palisades. Tilo's painting crew are professional, hardworking and efficient.
Daisy Doggin, Pacific Palisades
Tilo Martin and his crew have now for two different painting projects for us and we could not be happier. Both painting jobs were handled thoroughly and professionally. The attention to detail is amazing.
Phil Doran, Long Beach
Tilo Martin Painting is the top choice for interior and exterior painting in the Pacific Palisades, Malibu, Brentwood, Santa Monica, Bel Air, and the West Side. Call us today at 310-230-0202 to get a free estimate for your project.